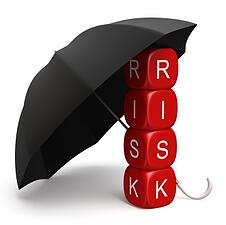 It is not possible for not-for-profit organizations and higher education institutions to prepare for all the risks they could face in the coming year. At some point, you have to make decisions about which risks have the highest chance of occurring or would have the highest monetary or operational impact if the risks happened.
Prioritizing risks takes some analysis and an understanding of the broader risk landscape in which you operate. Some risk factors vary by sector; higher education tends to be more concerned about costs and regulations. Other risks, like the continuing threat to organizational data, appear to be universally impactful.
To help illuminate the current risk landscape, our risk advisory team started to ask some questions. We polled attendees at a higher education risk management conference this fall about their greatest areas of concern. Preliminary findings show us some interesting patterns.
Information Security
The Technology Age is ushering in a new era of risks related to information security and the regulations that accompany it. The survey revealed that 65.8% of early higher education respondents named data and cybersecurity as their area of greatest risk and 47.3% of respondents said Information Technology & Security services would most improve their current risk management approach.
Costs Presents a Major Hurdle
Higher education respondents said their biggest obstacle to battling risk lay in the expense of risk management activities, followed closely by having the right personnel in place to help with risk.
More Input Needed
We would like to do a deeper dive into what's top of mind for not-for-profit organizational risk in 2020, and we could use your help. Our 10-question survey aims to uncover some of the common points of concern and the biggest roadblocks that could be in the way of mitigating those risks.
Data from the survey will help inform a forthcoming publication on the 2020 risk landscape. We hope the publication and results from the survey will help not-for-profit organizations like yours benchmark their risk management strategy and ensure they are prepared for the emerging developments coming their way. If you have any questions or comments, please contact us.
---------------------------------------------------------------------------------------
Copyright © 2019 CBIZ & MHM (Mayer Hoffman McCann P.C.). All rights reserved. CBIZ and MHM are separate and independent legal entities that work together to serve clients. CBIZ is a leading provider of tax and consulting services. MHM is an independent CPA firm providing audit and other attest services. This article is protected by U.S. and international copyright laws and treaties. Use of the material contained herein without the express written consent of the firms is prohibited by law. Material contained in this alert is informational and promotional in nature and not intended to be specific financial, tax or consulting advice. Readers are advised to seek professional consultation regarding circumstances affecting their business.