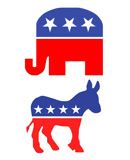 Comprehensive tax reform changes are commonly heard as presidential campaign promises, but the ideas put forth by the nominees provide some approaches to tax reform with which you should be familiar. What we know of Donald Trump's and Hillary Clinton's plans for the federal tax code may indicate future areas of IRS focus or updates.
Individual Taxes
Trump recently released a revised tax plan that would create three federal income tax brackets: 12 percent, 25 percent and 33 percent. The three brackets, if enacted, would reduce the top individual tax rate from its current 39.6 percent, benefitting those individuals on the higher end of the spectrum. The revised tax brackets mark a change from his earlier tax plan, where he proposed a 0 percent tax rate for lower income families.
Trump also proposes capping long-term capital gains taxes at 20 percent for the top bracket filers, repealing the alternative minimum tax (AMT) and the net investment income tax (NIIT), increasing the standard deduction to $15,000 for single filers and $30,000 for married couples filing jointly and creating several childcare deductions. He would cap itemized deductions at $100,000 for single filers and $200,000 for married couples filing jointly and eliminate the estate tax.
Clinton has advocated an approach that focuses on those at the upper end of the income bracket. She proposes a 4 percent surcharge on adjusted gross income (AGI) exceeding $5 million and a "Buffet Rule" levying a 30 percent minimum tax on AGI that exceeds $1 million. She would create additional limits on deductions, capping them at values of 28 percent. Her proposal includes formulating a new schedule for capital gains where assets held for less than two years would be treated as short-term capital gains and taxed like ordinary income, rather than the 23.8 percent maximum long-term capital gains rate. Individuals would have to hold assets for six years before enjoying the full benefits of long-term capital gains. The measure, which she has said would spur economic growth, could potentially have a significant effect on the private equity community.
Her proposal for the gift tax would be to reduce the thresholds for estates to $7 million for married couples filing jointly, increase the top rate to 45 percent and make the lifetime gift tax exemption $1 million.
Corporate Taxes
Both candidates are taking aim at multinational corporations and looking to make tax changes that encourage domestic production.
Clinton proposes restricting inversion transactions. Companies that go through inversion transactions combine with foreign companies to move their tax domicile overseas. U.S. shareholders typically exchange their domestic stock for foreign company stock. Current regulations treat any foreign company that is more than 80 percent held by U.S. stakeholders as a U.S. company, and Clinton proposes lowering that rate to 50 percent, which could potentially mean more multinational companies would be treated as U.S. companies.
One of the ways that the remaining U.S. operations avoid domestic taxation is by borrowing from the foreign parent, with the interest payments reducing U.S. taxable income. Another proposal would limit interest deductions where a U.S. subsidiary makes interest payments to a foreign parent domiciled in a country with a more favorable tax rate.
She also proposes eliminating the deferral of current taxation on U.S. controlled foreign entities. Currently, companies can structure their businesses to avoid U.S. taxation until their earnings are repatriated.
Trump attempts to encourage domestic innovation by lowering the corporate tax rate from 35 percent to 15 percent. The corporate tax rate cut would not apply to pass-through business income. The Trump plan would also eliminate the corporate alternative minimum tax (AMT) and levy a one-time 10 percent tax on the unrepatriated profits of foreign subsidiaries of U.S. companies in the year the proposal goes into effect, which can be paid over a 10-year period. Future profits would be taxed as they are earned. He would also create an election for companies manufacturing in the U.S. to either expense the full capital investment or deduct the interest paid for their activities. He proposed eliminating the domestic production activities deduction (Sec. 199) and all other business credits except for the research and development tax credit (R&D).
Estimated Effects of the Plans
Unsurprisingly, due to the stances taken, federal receipts would decrease under Trump's plan and increase under Clinton's.
Trump's plans would decrease the income received from federal taxes by an estimated $4.4 trillion over 10 years, according to analysis collected by the Tax Foundation.
Clinton's plans are expected to increase income by $1.1 trillion. Most of the revenue would come from the higher taxes on the high-income earners. Estate and gift changes, corporate tax changes and others make up fractional increases as well. High-income earners would be affected the most by the changes in both the Trump plan (positively) and the Clinton plan (negatively).
In either case, the outcome of the election is likely to require tax planning for both individuals and businesses. It is unlikely that either candidate's plan would be enacted as proposed (all information is current as of the publication date), but the area of focus for both candidates is clear, which leads to the possibility of legislation administrative action that will modify tax requirements in that direction.
For more information on how the political environment could affect your taxes, please contact your local CBIZ Tofias tax professional.
.............................................................................................................................................................................
Bob Smith is a Director in the Tax Group at CBIZ Tofias. He can be reached at 617.761.0705 or RSmith@cbiztofias.com.